GREENFIELD — A 22-year-old resident from Soledad has been arrested in connection with a 2018 shooting that killed a Greenfield man.
On Feb. 20, 2018, 32-year-old Joseph Suniga was shot and killed while riding his bicycle in the 700 block of Apple Avenue in Greenfield. Though surveillance photos of a person of interest were released at the time along with a reward for information leading to the suspect's arrest, the case went cold.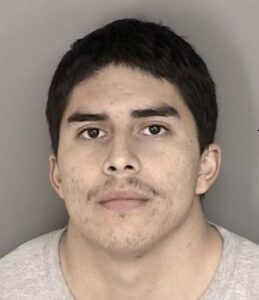 According to Greenfield Police Department, local detectives and the Monterey County District Attorney's Office Cold Case Task Force decided to take another look at the investigation, during which they obtained information to link Nathan Gallardo, 22, as the suspect.
On Thursday, Dec. 2, officers from Greenfield and other agencies conducted a search warrant in the 200 block of Pacifico Way in Soledad, where Gallardo was arrested for the murder.
Greenfield Police received assistance from Soledad and Salinas police departments, California Department of Corrections and Rehabilitation's Investigative Services Unit, Monterey County Sheriff's Office SWAT Team, the Drug Enforcement Agency and the Department of Homeland Security Investigation.
Two additional search warrants were also served this week as part of the cold case investigation.
Local detectives arrested Isaac Aguilar in the 300 block of Tuscany Avenue in Greenfield for the manufacturing and possession of a 9mm "ghost" gun — an unregistered, homebuilt firearm that has no serial number, making it untraceable — a rifle, narcotics and a butane hash oil lab.
"Butane hash oil labs are dangerous, and many times result in explosions," Greenfield Police said in a news release Friday. "These homemade labs endanger the surrounding homes and neighborhoods."
Police said the investigations are still ongoing.
Anyone with information on these cases can contact Sgt. Mattke at 831-233-1302, Detective Diaz at 831-324-5253, or Bill Clark from the Monterey County Cold Case Task Force at 831-755-5070 or by email at [email protected].